Local products Friday 31 March, 06:26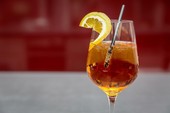 Local products
For Italians, aperitif is an opportunity to be together, to meet friends and socialise while enjoying a cocktail and some snacks. Prosecco is one of the Italian aperitif musts, being used in many cocktails such as...
Places of interest
The Province of Asti lies at the heart of Piedmont and borders Liguria in the south. This mostly hilly territory stretches across Monferrato and a small area of the Langhe and the Langa Astigiana, and is traversed by the Tanaro...
Local products
In Bordighera, as in many parts of Italy, with large parts of palm leaves, small and large decorated bunches are woven, which are given away or exchanged among the faithful as a sign of peace.