Mimosa is one of the most commonly used flowers for symbolism. Here and there, the flower shines and naturally represents the sun. In the language of flowers, mimosa is the conjuration of secret love: no one knows that I love you. It also means safety, increased sensitivity. It also says: She is my only love. Likewise, she is the flower of reunification. Symbol of gold and sun, mimosa is also the image of the triumphant life, because of the hardness of the wood and the victory over the forces of evil.
The English often keen on botany, were mainly based on the French Riviera in the nineteenth century. Seduced by their holidays on the Côte d'Azur, they brought mimosas there. This was imported from Australia around 1850 and adorned the gardens of its lavish residences. Over time, Mimosa has become one of the most popular tourist attractions of the coast during the winter.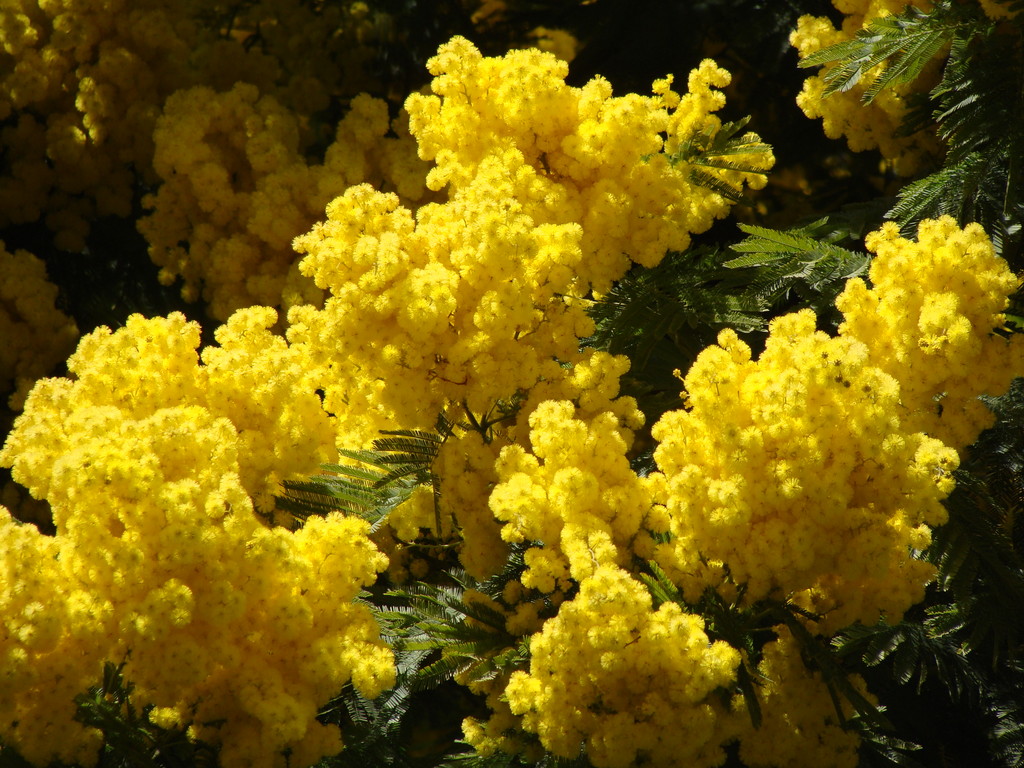 Mimosa, a little story ... Around 1880, the mimosa, from Australia, appears on the slopes of Croix des Gardes in Cannes, probably introduced by the Duke of Vallombrosa, the Marquis de Mores or Lord Brougham. The Society for Horticulture and Acclimatization largely contributes to their promotion. The mimosa cultivation is therefore multiplied in the region, in Mandelieu, Pégomas, Tanneron and La Roquette. From the stations of Cannes and Mandelieu, mimosa is sent to all important cities in France and Europe.
Mimosa, botany ... The mimosa belongs to the genus Acacia and order mimosa. Cut flower, ornamental plant or for rockeries, defensive hedge or windbreak, for holding sand and soil, but also for perfumery: Different species are used for very different purposes. It is mainly grown in southern Australia, South Africa, France. 800 species counted and 1,200 species should exist.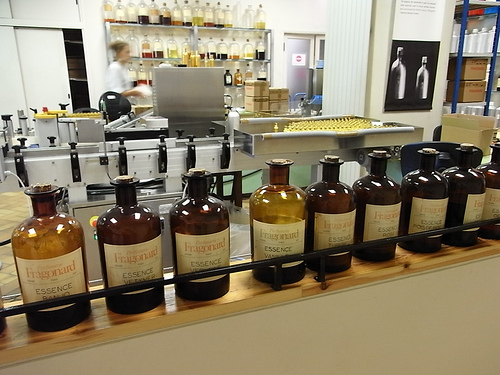 [Perfumery Fragonard credit turistadimestiere.com]
Mimosa in the perfumery ... The best brands of French perfumery use the mimosa in their most famous scents ... Amarige Perfumes Givenchy, Yves Saint Laurent Paris, Guerlain perfume for his Champs Elysées, Suprème moment of Jean Patou, etc. The flowers of mimosa, particularly popular in the development of fragrances, is composed of a large amount of different molecules. But only some of these molecules contribute to the aroma. Mimosa is surprisingly similar to the violet, but more subtle and airy. Cassia Mimosa (Acacia farnesiena) is used in perfumery, but evolution is increasingly turning towards wild mimosa.
Other fragrances ... Mimosa Pour Moi, L'Artisan Parfumeur Casaque, Jean d'Albret Kalispera, Jean Desse's Masumi, François Coty's Le Mimosa, Molinard's Jeune L'Eau d'Azur, L'Occitane
The florists of Cours Saleya also give some tips to keep mimosa bouquets for a long time, trying to delay their fading as much as possible. First of all keep them as far as possible from sources of heat, especially from radiators, then wet the stems every day with only the water, with the care to cut them a little every day.