Beetroot or red turnip is a generally biennial herbaceous plant and has a triple cultivation: for sugar; as a vegetable in human nutrition, both for the leaves and for the tuber; fodder for animals.
Cultivated in Italy at the end of the 17th century, however, Pliny Vecchio mentions it as it was not only used for food purposes, but also for its medicinal properties! It has purifying properties, fights anemia by stimulating the production of red blood cells and, above all, dissolves calcium deposits thus counteracting the hardening of blood vessels. Stimulating properties are also recognized and, thanks to the high content of nitrates, as British scientists have verified, it is particularly useful for athletes who take it through centrifugation.
Finally, almonds confer, in addition to further flavor, crunchiness by bringing precious minerals.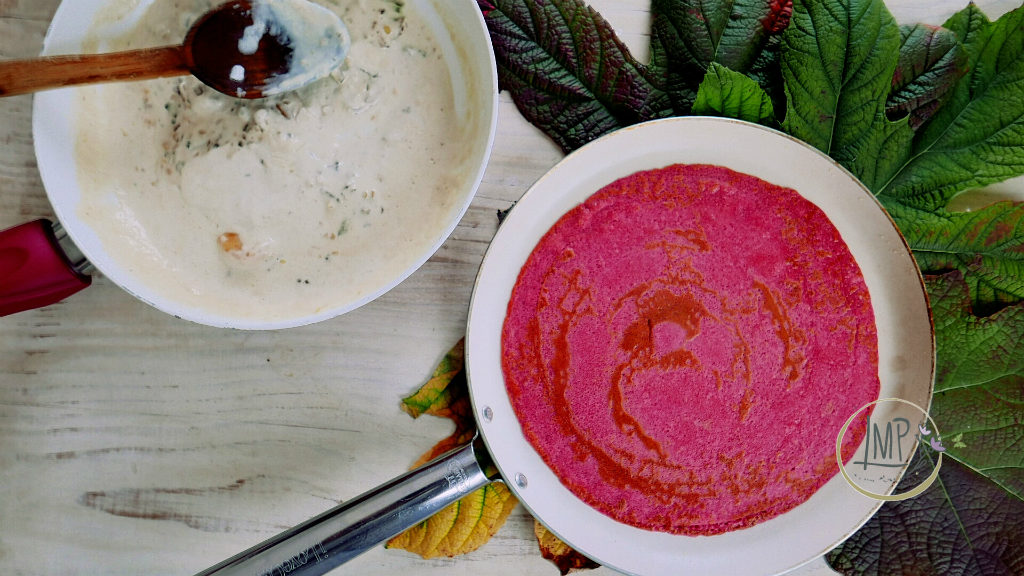 [Credit maggioranapersa]
Ingredients:
FOR 8 CREPES OF ABOUT 22 CM. DI DIAMETER:
Peeled baked beetroot, 100 grams
Partially skimmed or vegetable milk, 400 grams
Flour, 125 grams
Egg, one
Salt, a pinch
Cooking cream or vegetable cream, one package
Dried porcini mushrooms, 10 grams
Garlic , 2 cloves
Peeled coarsely chopped almonds, 15 grams
Extra virgin olive oil, 10 grams
Salt
Soak the dried mushrooms in warm water for half an hour.
Blend the beet with an egg.
Add the flour and, with a whisk, dilute with the milk gradually poured until a batter without lumps is obtained.
Salt and leave to rest in the cool for 30 minutes.
In the meantime, prepare the seasoning. Chop the dried mushrooms with the knife, leaving a few whole slices.
Brown the two peeled garlic cloves in the oil and add the mushrooms with part of the almonds.
Leave to aromatize for a few minutes, stirring frequently.
Add the vegetable cream, salt and thicken.
Lightly oil a measuring pan and pour a ladle of batter.
Thicken and, with the help of a spatula or making it jump, turn the crepe. Keep aside warm.
Season each crepe with a little sauce, fold them in four and flavor them with the rest of the sauce.
Sprinkle them with the remaining almond grains.
The extra idea. When serving the red crepes, slice a few slices of black truffle or scorzone on each plate!