Offered as the appetizer or the second, often eaten in picnics and excursions, perfect in the office or at school: it doesn't even need to be heated! It is a dish loved and cooked throughout Italy: the omelette of pasta in a perfect recycling is very famous, which makes the dish of the day before, even more tasty. Usually fried in a pan, the tendency now is to bake it, for a healthy dish with greater digestibility. It has the characteristic, unlike the omelette, of being turned over with the aid of a plate or a lid.
Chard, 500 grams
Eggs, 4
Grana cheese, 80 grams
Dried mushrooms, 3 or 4 slices
Onion, a small
Garlic, a small clove
Marjoram, enough
Salt Extra virgin olive oil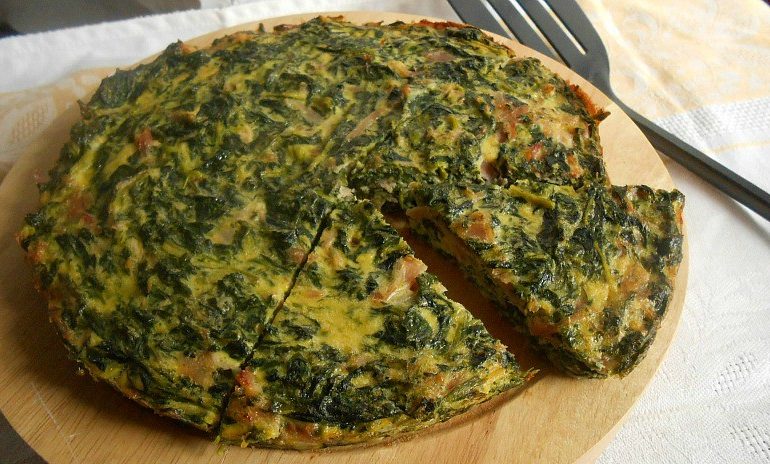 [Credit Vistanet]
Preparation:
Soak the dried mushrooms in hot water.
Wash the beets well. If the ribs are large, remove them and boil them separately and season them, for example, with oil and garlic. Cut them into strips of about one centimeter and cook them in a non-stick pan with a little salt to release the vegetation water.
Lightly fry the onion in oil with the chopped mushrooms and add the chard sautéed and drained well. Let it flavor and turn off.
Add the finely chopped garlic and marjoram and the grated cheese, stirring well: there are some who add the breadcrumbs soaked in milk, but I do not find it necessary.
Gradually add the eggs, stirring carefully. Adjust with salt.
Heat a little oil in a pan and pour the mixture, moving it gradually to allow uniform cooking.
After about 7-8 minutes, grease a plate or, even better, a lid without grooves. Place it on the pan and, moving on the sink, with a decisive movement while holding down, turn the pan by gently placing the omelette on the lid. Lightly grease the pan and slide the omelette inside.
Cook again for about 5-6 minutes, depending on the thickness and turn it again on a plate covered with kitchen pape
Enjoy the chard omelette luke warm or cold, accompanied by a mixed salad.