The Villa, commissioned in 1880 by the Dutch banker then naturalized French Raphaël Bischoffsheim, was designed by the Parisian architect Charles Garnier, who at that time had just finished the realization of his home in Bordighera, in the Arziglia area, and was the designer of the impressive Paris Opera. The prestigious building, depicted in 1884 in four works by the famous French impressionist Claude Monet, was purchased in 1896 by the Scot Claude Bowes-Lyon, XIII count of Strathmore, great-grandfather of Queen Elizabeth II of England, who renamed it "Etelinda". The property was finally sold in 1914 to the Queen Mother Margherita of Savoy. In the park, Umberto I's widow had charged the Milanese architect Luigi Broggi to design an elegant villa, that still bears the name of the sovereign, assigning Villa Etelinda to the royal entourage.
The building is characterized, similarly to Villa Garnier, by the four-storey tower from which to enjoy the views and to observe the stars. A long external band in gilded mosaic recalls the first stay of Queen Margherita of Savoy in Bordighera, which occurred in the winter season 1879-1880. Inside the majestic main entrance, decorated with frescoes with landscape views painted by Giuseppe Ferdinando Piana. The painter, born in the western part of Liguria, was initiated into an artistic career by the great Ernest Meissonier, who was struck by his abilities just when he was in Bordighera, a guest at Villa Garnier. After the death of Queen Margherita, the Villa was donated by the Sovereign's will to the National Association for Families of Fallen and Dispersed in War, to transform it into a nursing home for mothers and widows and orphans of soldiers fallen in the war for the Fatherland. It is currently a historical area and the registered office of the Bordighera Provincial Committee / Imperia of the Association.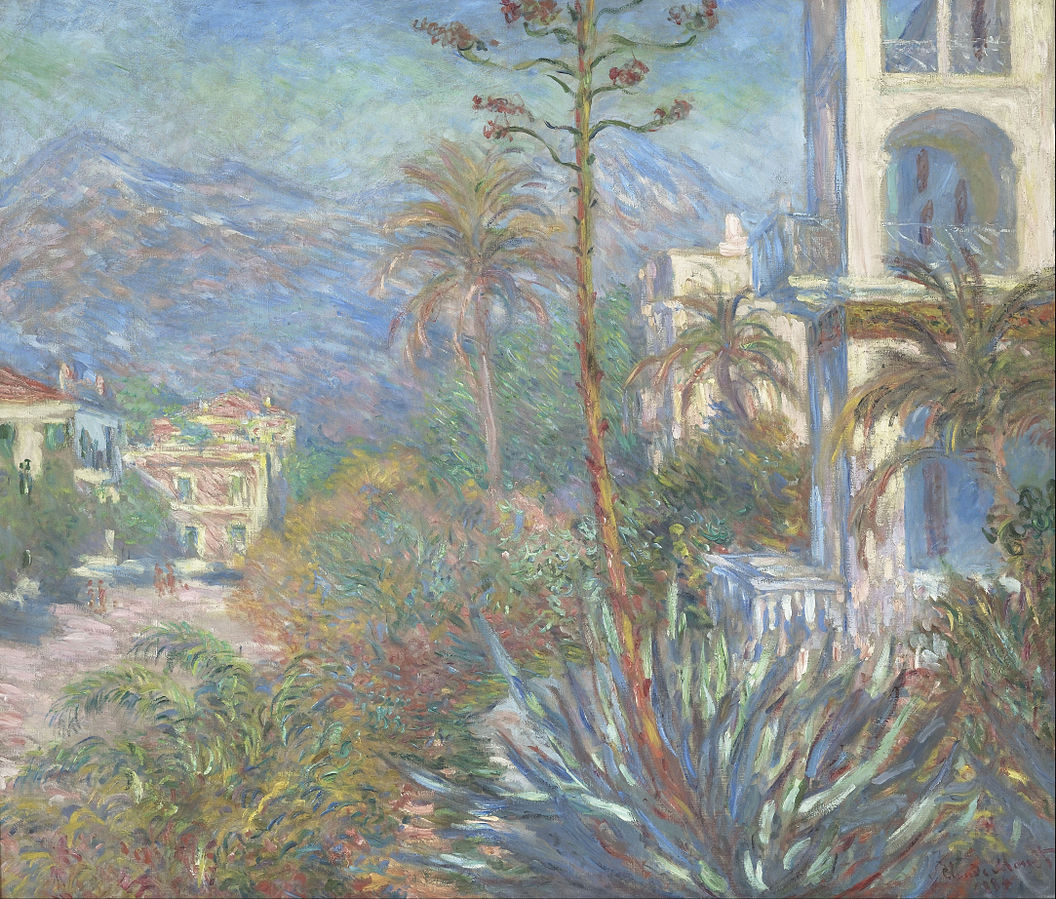 [Painting by Claude Monet]
Via Romana, 38 - Bordighera (IM)
+39 388 0261925 anfcdgimperia@gmail.com
Timetables for guided tours: Saturday 4.00pm - 5.00pm; Sunday 11.00am - 12.00pm - 3.30pm - 4.30pm - 5.30pm. Other days, by reservation, for groups of minimum 10 people. From 23 June to 28 July postponed afternoon hours of one hour.
Admission: € 4.00; children (0 to 14 years) free