A delicious, simple, fresh and light recipe.
Ideal in Spring when fava beans are available, as they are a cool weather crop, commonly found in late spring through early summer.
Fava beans are an ancient legume found in the earliest human settlements, remains are reported to have been found in Egyptian tombs. Fava beans were cultivated by the Egyptians, Greeks and Romans.
Nowadays, they are still widely used in Ligurian cuisine and they are a fabulous sign of Spring season.
Ingredients:

280 gr vialone nano rice
1 garlic clove and 1 shallot
1 glass of white wine, preferably Vermentino
150 gr di fresh fava beans
homemade vegetable broth
parsley
50 gr grated pecorino cheese
extra-virgin olive oil, salt and pepper to grind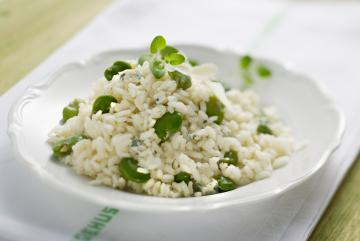 [Credit ricettaidea]
Directions:
Sautée garlic and shallot in extra-virgin olive oil, add the fava beans, salt and pepper. Add the Vermentino wine and let simmer until evaporated.
Add the rice, toast and cook it in the broth. When the rice is al dente, turn off the heat.
Serve this delicate and appetizing dish with a pinch of pepper, grated pecorino cheese, chopped parsley, and some mint leaves on top.