Used wholemeal flour which is recommended to make it finer if it has visible pieces of bran. Without making it too fine, to avoid distorting the sense of this cake! Excellent for a snack with a good cup of tea or in the morning for breakfast, it can be accompanied with zabaglione, if you like, lightly whipped cream or vanilla ice cream. It does not get too wet and this is a great advantage and, if desired, the next day you can just warm it in the oven.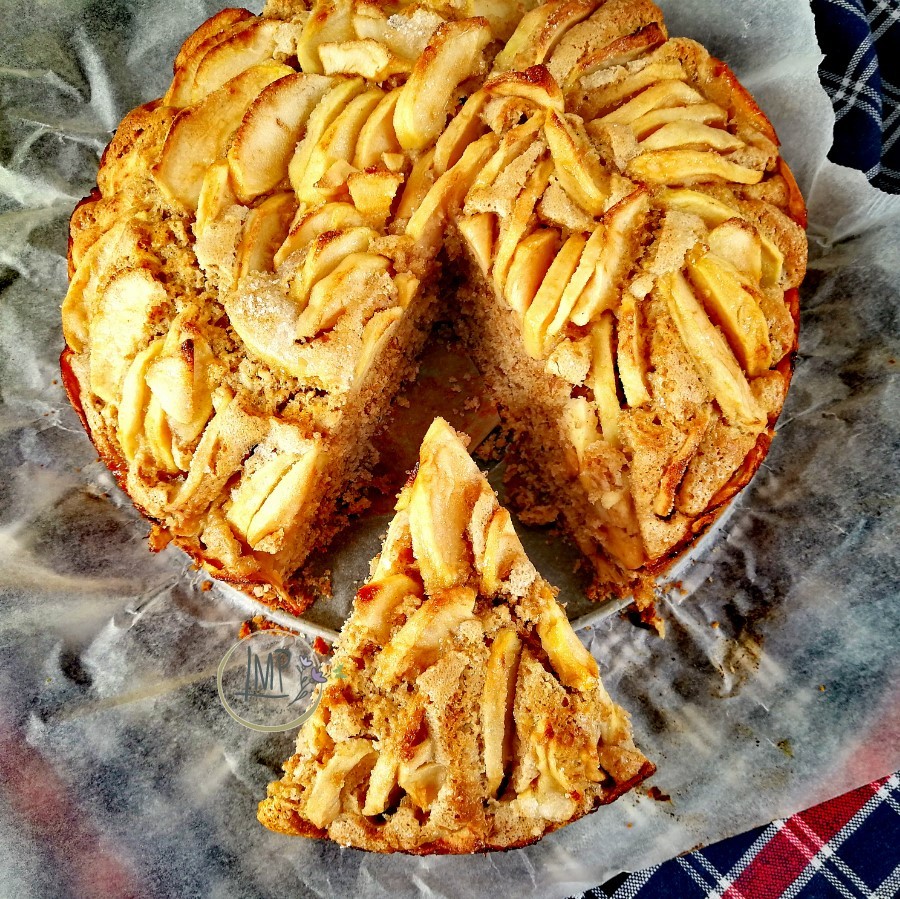 [Credit maggioranapersa]
Ingredients: for 10 persons
Wholemeal flour, 350 grams
Sugar, 200 grams
Butter, 125 grams
Medium eggs, 3
Walnuts, 200 grams
Renette apples, 3
Milk, 60 grams
Baking yeast, vanilla flavoured, one sachet
Sugar for covering. two tablespoons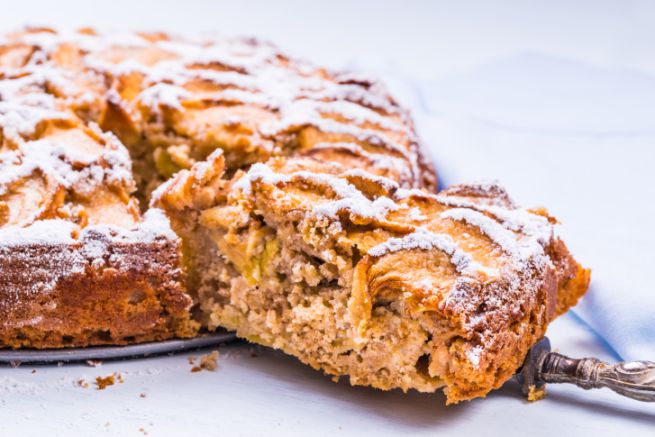 [Credit gustoblog]
Melt the butter at moderate heat or in the microwave oven.
Shell the walnuts and chop them coarsely with the knife.
If the flour has too large fibers, pass it briefly in the mixer without pulverizing it.
By hand or with a robot, beat the eggs with the sugar.
Add the cold butter and the flour in which the yeast is mixed, by spoonfuls.
Dilute with milk: the dose is indicative because the consistency of the dough depends on the type of flour.
Add the walnuts and mix with a spatula.
Line a 24 cm cake pan with parchment paper and pour the mixture.
Peel the apples, divide them into 4 and remove the core.
Slice them and arrange them radially on the dough, pressing gently with the palm of your hand to make them sink slightly.
Spread the granulated sugar on the surface.
Bake at 170 degrees for 40 minutes, in the medium-low part of the oven and check the cooking with a stick.
Let the cake rest in the oven with the door closed for another 10 minutes. Take out of the oven when it's cold.