Some prefer it friable or hard with almonds but there are people who love it soft. Here both versions and you just need to modify a passage to get it in one or the other way.
650 g Almonds
300 g Acacia honey
300 g Sugar
100 ml Water
3 Egg whites
1 Grated lemon peel
1 sachet Vanillina
2 host leaves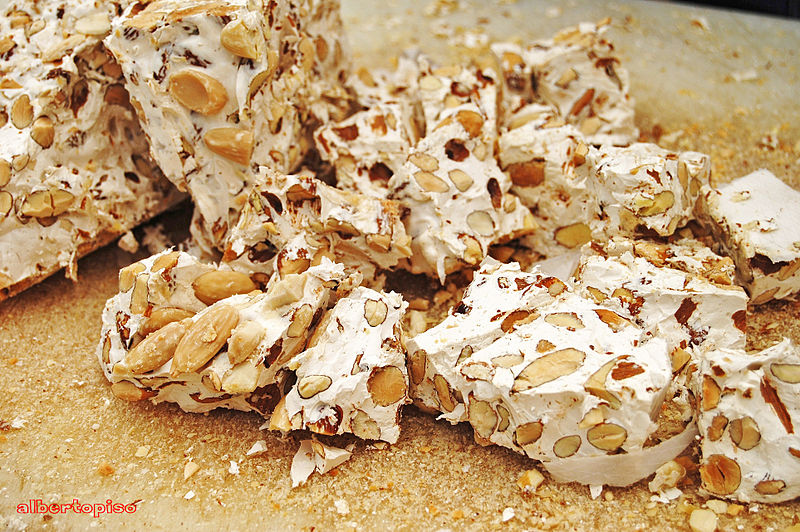 [Credit Flickr]
First of all prepare the mold (You can use some molds for the nougat but you can take a baking pan, the rectangular one of cakes or plumcake molds) and sheathing at the bottom and on the sides with the host. You can easily find hosts in pastry shops or in some well-stocked supermarket.
Take the honey and cook it in a bain-marie, placing it in a bowl placed on a larger pan filled for less than half with water. Cook the honey, stirring for about 1 hour and a half. To understand if it is ready, put a little inside a glass filled with cold water, it must harden immediately, if it happens then it is ready to be used.
When the honey is almost ready, cook the sugar and pour it into a saucepan with 100ml of water. It must become a thick syrup. To understand when it is ready use the same method used for honey.
Whip the egg whites until stiff and add them to honey (always in a bain-marie), stirring for 5 minutes, a whitish mixture will begin to form, also add the sugar syrup, stirring constantly.
After a few minutes and when the dough of nougat begins to harden slightly, add the almonds, vanilla and lemon zest. Stir again to mix everything. At this point, the dough is ready.
Pour it into the mold covered by the wafers, level the surface well, place another wafer on it and let it dry well for about half an hour. After half an hour Torrone will still be slightly soft, cut it into the shape you want and let it harden completely.
Once it has hardened, break it and store it by wrapping it in a transparent kitchen film.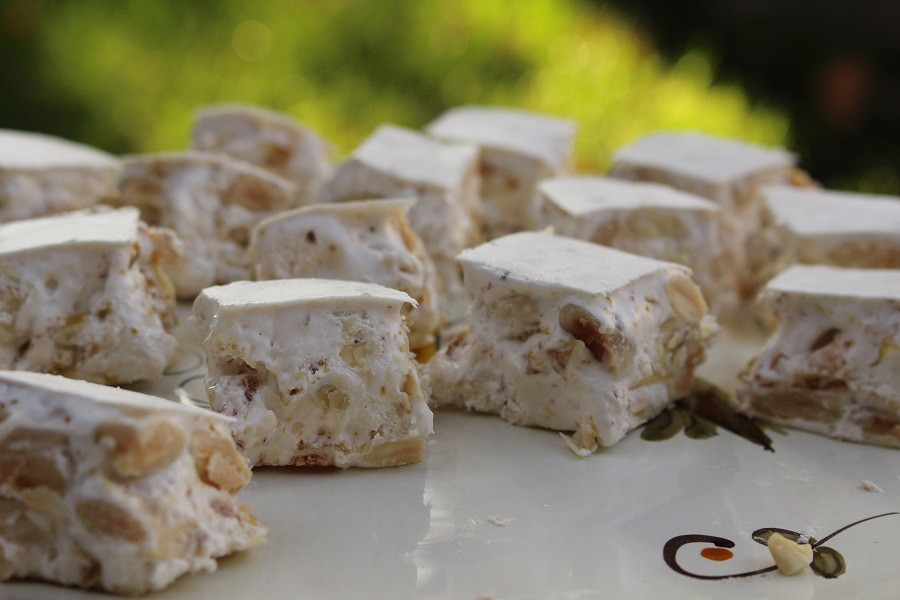 [Credit Flickr]
If you want the nougat to remain soft then you have to cook the honey half the time. If for the FRIABLE TORRONE it has to cook an hour and a half for the SOFT TORRONE it must cook about 45 minutes and you will have a very tender torrone.
How to store:
It should be kept closed in a tin or plastic box in a cool place but not in the fridge and you can also keep a month if stored correctly.