Landed in Provence with the US in 1945, Alexandre Micka opens a bakery at the Town Hall Square in St. Tropez- a small Provencal village that houses a bell tower, a charming port and the song of cicadas- and sells off its pizzas, croissants and pastries, a cream cake, a recipe from his native Poland.
Very close to there, a team shoots a film "And God Created Woman." The names of actors and stage director are still unknown: Brigitte Bardot, female lead; Curd Jurgens, male lead; Jean-Louis Trintignant, a young beginner and Roger Vadim, director. The film would kindle the planet.
Very quickly, Alexandre Micka takes care of meals for the crew, and every day, his famous cake is further requested. - "You should give it a name to your dessert" advised one day Brigitte Bardot. "Why don't you call it" Pie from Saint-Tropez "?"
Finally, Alexandre Micka put the brand and patent baptizing his cake "Tarte Tropezienne '.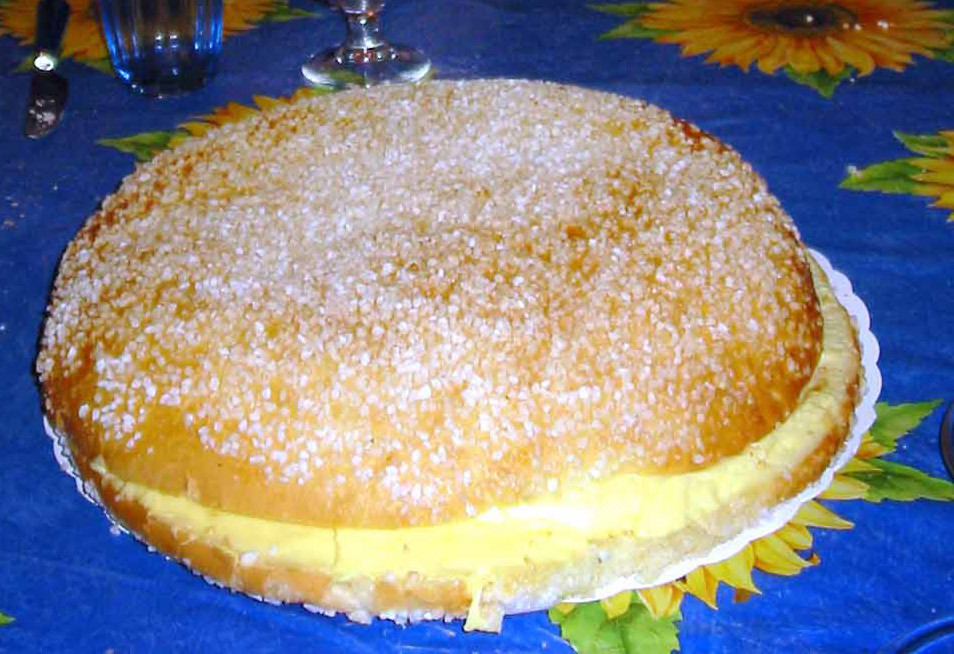 [Credits A666]
Ingredients:
For the dough:
15 g of diluted yeast with a tablespoon of lukewarm milk
300 g flour
3 eggs
1 yolk diluted in a little water for gilding
4 g of fine salt
20 g sugar
130g soft butter
100g crystallized sugar
300g sifted flour
For the pastry cream
50 cl milk
1 vanilla pod
3 yolks of eggs
75 g sugar
60 g flour
For the Chantilly Cream
125 gr whipping cream
1 tablespoon powdered sugar (icing sugar)
Method:
Dough Preparation
Dissolve the yeast in a little warm milk
In a kneading trough deposit a flour fountain, pour the whole beaten eggs, yeast, sugar, 1 pinch salt and softened butter, flavour with orange blossom water and knead for 10 minutes.
Give it a ball form, cover and let rest 2 hours.
Put the dough in a greased pie form, brush with egg yolk and sprinkle with sugar grain.
Bake at 180 ° for 30 minutes.
Preparation of pastry cream
Boil the milk with the vanilla pod cut in half in the lengthwise and scraped the inside. In a bowl, bleach the egg yolks with the sugar then add fine flour.
Pour the boiling milk, stirring with a whisk, returning into a pan and thicken over low heat, stirring constantly.
Put the cream into a bowl and let cool.
Preparation of the Chantilly
Place the bowl with the cream in freezer 5 minutes. Mount the cream half stiff, add tablespoon of icing sugar.
Finishing and assembly
Cut cake in half the thickness. Mix together the pastry cream and whipped cream.
Garnish the cake, sprinkle the top with icing sugar. Refrigerate until ready to serve.
What a treat is a beautiful cake decorated with the pastry cream lightened with whipped cream!