White polenta is a dish of potatoes and Saracen flour with a sauce of fried leeks, porcini mushrooms and cream.

Ingredients (for 4 people)

For the polenta

600 g of potatoes

cold water

100 g of white flour or small buckwheat flour

salt

For the sauce

1 leek

1 knob of butter

2 tablespoons olive oil

milk

200 ml of fresh cream for cooking

30 g of dried porcini mushrooms (also fresh seasonal mushrooms)

salt

black pepper

Parmesan to taste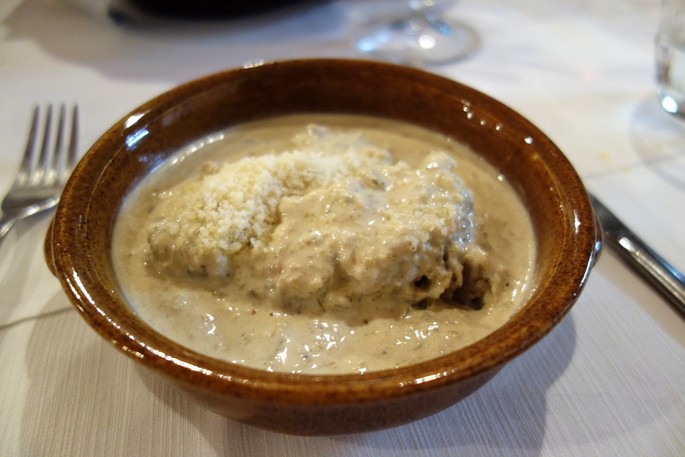 [Credit El Leon]
Preparation

Start with the sauce.

Let the dried mushrooms soak in a little water.

Meanwhile, clean the leek and cut it into thin slices. Put it in a saucepan with the oil and butter and let it dry for about 10 minutes, adding milk as needed, so as not to burn it. The leek should be soft and almost transparent.

Add the previously squeezed mushrooms and continue cooking for another 10 minutes, adding milk as needed.

Season with salt and pepper and complete the preparation adding the cream and cooking for another 2/3 minutes. Keep warm.

Proceed with the polenta.

Peel the potatoes and put them in a saucepan with cold water until they are completely covered till about 1 cm above. Salt.
Distribute the flour on the surface of the water, without stirring, and making a hole in the center that serves as a chimney for the blow.
Cover but not completely. I put a wooden spoon across the edge of the pot and put the lid on it. In this way the polenta does not overflow during cooking, otherwise it is a disaster! Cook for about 30 minutes, or until the potatoes pass the "knife test" and they will be soft and almost disintegrated. Turn off the heat and mix the potatoes and the flour with the pistun or the potato masher in the cooking water until the mixture is similar to polenta, without lumps.
Tradition has it that the polenta is turned upside down on a cutting board and cut into slices with the thread, on each slice distributed the Parmigiano Reggiano and finally the sauce of leeks and mushrooms.
You can instead serve it by spoonfuls, directly on the plate, crushing them to distribute it better, so that irregularities are formed which, in our opinion, better collect the sauce; or you can help yourself with a pastry cutter ring (lightly oiled) and serve it as a pie or turret, then season with Parmigiano Reggiano and finally the leek and mushroom sauce.
To this specialty the Pro Loco of Ormea dedicates a feast, in mid-summer: by clicking on the link for the festival of the Saracen polenta you will know the updated date, as soon as the calendar of events will be available on the website of the Municipality of Ormea.