In the cream is added the Sambuca, whose taste is barely insinuated. If you want to avoid alcohol, you can replace it with anise seeds. The figs must be organic, because the skin must remain, otherwise they will fall apart!
Rice flour, 150 grams plus that for the pastry board
Almond flour, 90 grams
Very cold butter, 160 grams
Ice water, 70 grams
Sugar, 25 grams
Soft butter, 70 grams
Caster sugar, 70 grams
Almond flour 70 grams
Egg, one
Sambuca, 2 or 3 tablespoons
Fresh organic figs, about 8
Almond flakes, 15 grams
Caster sugar, as needed
Egg, one
Milk, a spoon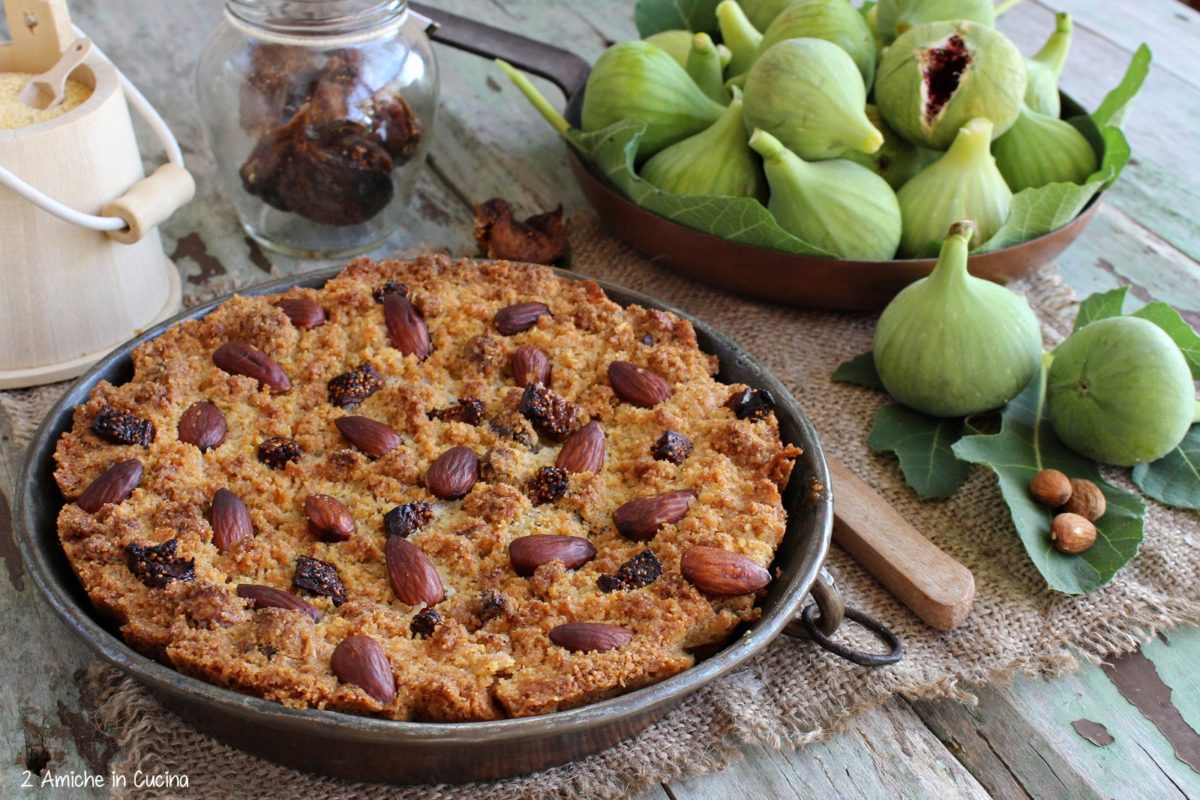 [Credit dueamicheincucina.it]
Cut the butter into thin slices and place it in the freezer for 20 minutes.
In the robot, pour in the flour, sugar, almond flour, butter and water.
Crumble the ingredients without compacting. Close in a container and place in the refrigerator to rest for at least 3 hours, preferably overnight.
Mix the soft butter with the sugar with a mixer.
Add the egg and dilute the Sambuca.
Add the almond flour and obtain a smooth and soft cream.
Cut some figs in 6-7 mm thick wheels, removing the stalk and the bottom and others in lunes dividing in four.
After the indicated period, turn the crumbs of dough onto a sheet of well-floured baking paper and spread it with a rolling pin in a circle a few millimeters thick.
Some dots of butter will remain. Leave the edge uneven.
Transfer the sheet with the dough into a 28 cm mold.
Pour the cream on the base.
Arrange the figs on top, alternating the two forms.
Place in the freezer for about 20 minutes: it must be compacted.
Light the oven to 200 degrees.
Brush the edge of the crumbled with the egg yolk diluted with a spoon of milk.
Decorate the border with almond flakes and the whole cake with granulated sugar.
Put in the fridge.
When the temperature is reached, bake for about 40 minutes in the lower part of the oven.
Turn off the oven and leave the cake inside for five minutes.
Allow to cool and take out of the form with delicacy.
Note. You can accompany the crumbled almond cake with a scoop of cream or vanilla ice cream.