t has a soft and creamy consistency and is inviting to both the eyes and the palate. All that remains is to try it immediately!
Ingredients:
500 g of strawberries,
500 g of mascarpone,
6 eggs,
120 g of sugar + 50 g for the syrup,
1 glass of water,
400 g of ladyfinger biscuits,
1 bar of white chocolate
1 spoon of Cointreau.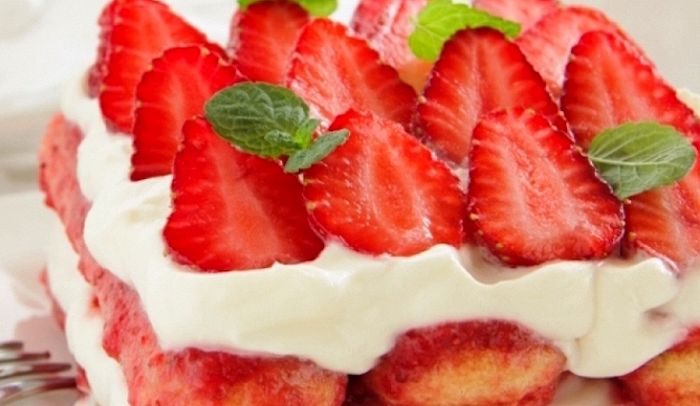 [Credit buonissino]
Procedure:
First, separate the yolks from the whites. In a bowl, whisk the sugar with the egg yolks and then, when the mixture is very frothy, add the mascarpone and then the whites whipped to very firm snow.
Stir with a wooden spoon from top to bottom, so as not to disassemble the whites. Let the cream rest in the fridge for two hours.
Apart slice ​​along the washed strawberries, and blend two thirds.
Combine the strawberries with a syrup of 50 g of sugar, the liqueur, the water and mix well.
Dip the ladyfingers in the strawberry cream and place them in a baking dish.
Cover a first layer of biscuits with the mascarpone cream, make a second layer of biscuits soaked in strawberry syrup and finish with the cream.
Cover your tiramisu with plastic wrap and leave it in the fridge for at least an hour.
Before serving, finely chop a white chocolate bar and decorate with it and with sliced ​​strawberries.