Ingredients for four people:
12 cannelloni of fresh pasta,
500 g of sheep's milk ricotta,
500 g of asparagus,
100 g of bacon,
1 egg,
4 tablespoons of grated Parmesan,
salt and pepper to taste,
1 pinch of nutmeg,
a knob of butter for the pan.
1 liter of milk,
100 g of butter,
3 tablespoons of flour,
1 pinch of nutmeg,
salt to taste.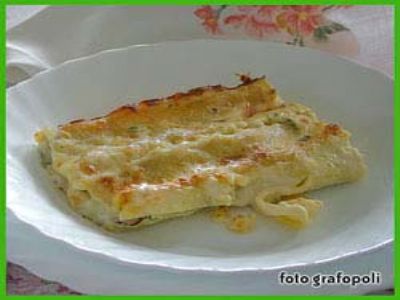 Wash the asparagus and cook in salted water. Cut the tender tips and set them aside.
With a blender, blend the rest of the asparagus with 2 tablespoons of ricotta, 2 of Parmesan, the egg and the coarsely chopped speck.
Transfer the mixture into a bowl and add the rest of the ricotta and a pinch of nutmeg.
Mix the ingredients well and add salt and pepper if needed.
Fill the cannelloni with the mixture.
Prepare the béchamel:
Take a bowl and mix the flour, milk, salt and a pinch of nugget.
Melt the butter on a low heat in a pan without letting it brown.
Slowly, pour the milk with the other ingredients into the butter, always stirring with a wooden spoon.
Bring the sauce to the boil, stirring constantly and making sure that no lumps form.
After about 3 minutes the bechamel should be quite thick. In this case, since the cannelloni are of dry pasta and must not be blanched before being baked, you have to make a more runny than usual bechamel. Add salt and turn off the heat.
Coarsely chop the asparagus tips you have set aside and add them to the béchamel, stirring well.
Grease a baking sheet with the knob of butter and pour a little more béchamel on the bottom evenly. Place the cannelloni next to each other.
Spread the rest of the béchamel and grated Parmesan over the cannelloni.
Bake in a preheated oven at 200 ° C for about 30 minutes.