The Fête du Citron® (Lemon Festival), an unique event in the world, attracts 240,000 visitors every year – a number which is constantly rising.
With processions of floats, gardens of lights and the exhibition of giant designs, come and discover this fantasy world, and move to the rhythm of a simply unforgettable event.
More than 300 professionals work on the project and 145 tons of citrus fruits are used.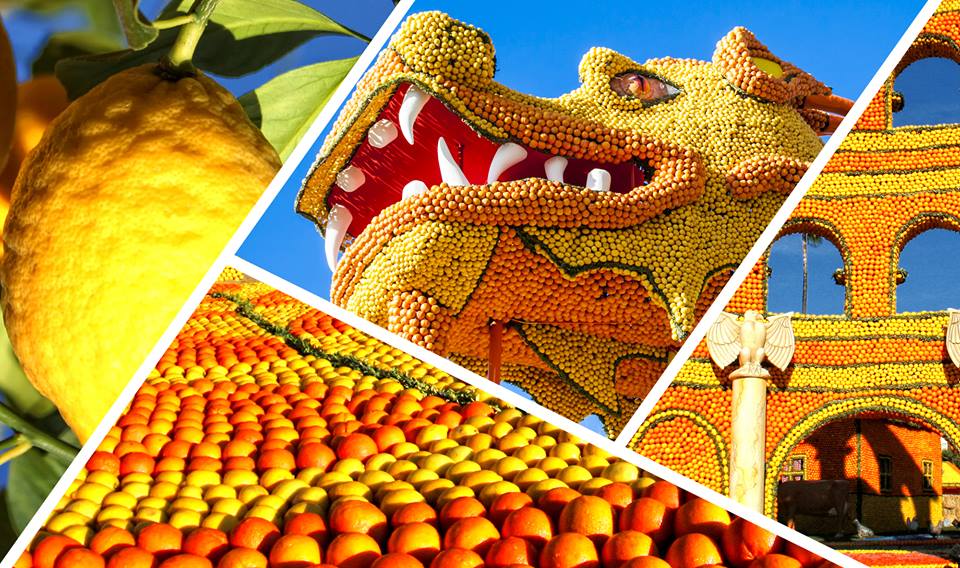 [Credit Facebook site]
The main events
Saturday 16 February at 11.00 am: opening of the 86th Fête du Citron®
Saturday 16 February at 2.00 pm: opening of the Exhibition of Citrus patterns
Saturday 16 February, 8.30 pm: Les Jardins de Lumières (The Gardens of Lights)
Sunday 17 February, 2.30 pm: Golden Fruit Parade
Thursday 21 February, 9 pm: The night-time parade, (followed by fireworks)
Friday 22 February, 8.30 pm: Les Jardins de Lumières (The Gardens of Lights)
Sunday 24 February, 2.30 pm: Golden Fruit Parade
Thursday 28 February, 9 pm: The night-time parade, (followed by fireworks)
Friday 1 March, 8.30 pm: Les Jardins de Lumières (The Gardens of Lights)
Sunday 3 March, 2.30 pm: Golden Fruit Parade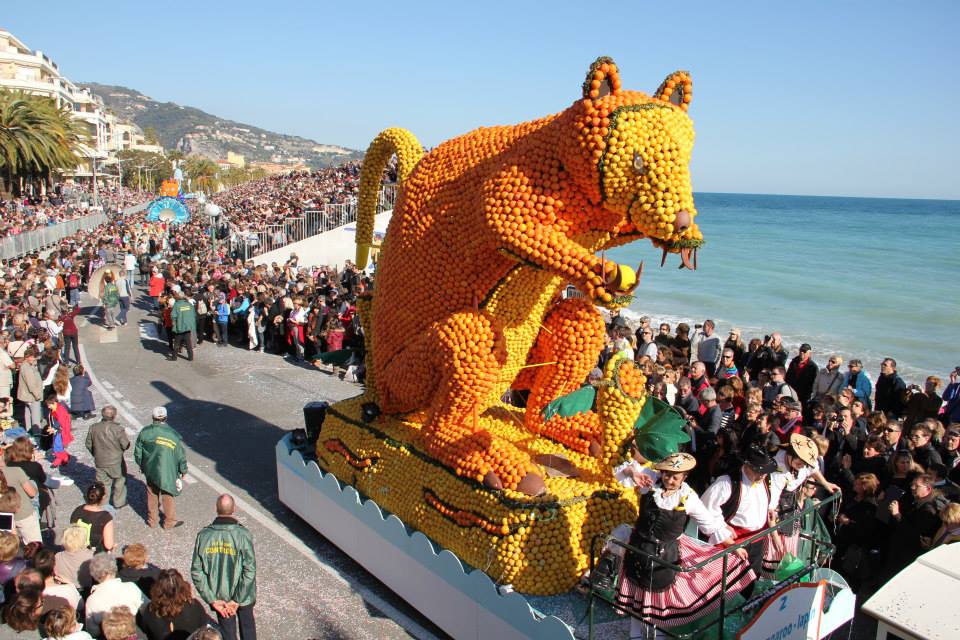 [Credit Facebook site]
The event in numbers
20 days of festival
240, 000 spectators on average each year
10 floats and 13 decorated displays in the gardens
200 artists (dancers, musicians)
400 participants (warehousemen, cashiers, screening staff)
Over 20, 000 hours worked by crews, primarily municipal
12 people in charge of changing any fruit which has deteriorated each day
140 tonnes of citrus fruit for the gardens and floats
Up to 18 tonnes of fruit for the most magnificent designs
45 kg of oranges or 30 kg lemons are needed to cover 1 m²
5 tonnes of additional fruit to replace any damaged fruit
Over 750,000 elastic bands for attaching the fruit
15 tonnes of steel
More info: File hereby and