The inflorescences are sweet, delicate and fragrant and therefore very appreciated by bees, so be careful when you collect them. Look for plants away from roads to avoid dust and smog. Vegan and vegetarian recipe.

Ingredients for four people:

9 Elder flowers

9 bunches of Acacia flowers

150 g of type 0 wheat flour

1 glass (about) of cold carbonated water

1 pinch of salt
mature Ligurian extra virgin olive oil of peanut oil to fry

fine marine salt or chestnut honey for the sweet and vegetarian version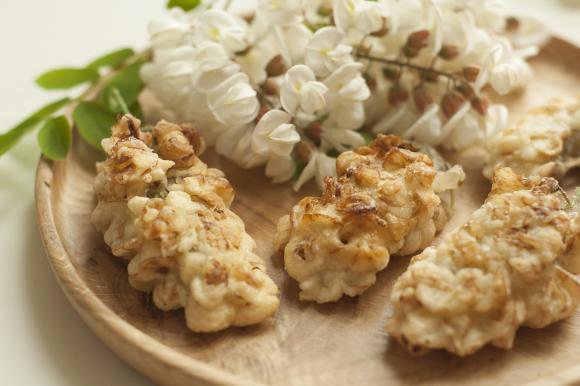 [Fried acacia flowers, credit Fidelity Cucina]
Wash and gently dry the twigs of the flowers, if they are large, divide them into two or three parts.

In a bowl, using a kitchen whisk, prepare a very soft batter with flour, water and a pinch of salt.

Heat the oil in a pan with high edges or in a wok (be careful not to raise the temperature too much, because the flowers are very delicate).

Pass the twigs in the batter one at a time, lift them to make it pour and then dip them in the boiling oil.

Turn them often with a kitchen tongs to control cooking on both sides and once they are golden, transfer them to the paper towel to let the excess oil drain.

Arrange on a serving dish, sprinkle with a little fine salt if you prefer them salted or "polish" the fried flowers by pouring a little chestnut honey for the sweet (delicious) version.