NEW YEAR IN CONCA Municipality: Frabosa Sottana

PRATO NEVOSO is a ski resort located in the splendid setting of the Maritime Alps in the province of Cuneo. Located at 1500 meters above sea level in the municipality of Frabosa Sottana (CN), it is easily accessible thanks to its optimal position that allows it to be reached in just over an hour's drive from the main capitals of Piedmont and Liguria. Slopes and open slopes make Prato Nevoso the ideal ski resort for those approaching for the first time to the snow world, both children and adults.
Great New Year's party with torchlight, animation, DJ sets and the inevitable fireworks.

Also this year you can ski on the illuminated slopes of the resort.
3; 2; 1; NEW YEAR 2019 Municipality: Entracque

At 6.00 pm, Area Faunistica - Provincial Road to San Giacomo, 3! Welcome drink, "Beware the Wolf By Night" and farewell to 2018 with the Cooperative Montagne del Mare.
Following, don't miss the rich program proposed in the village of Entracque.

Info: www.turismoentracque.it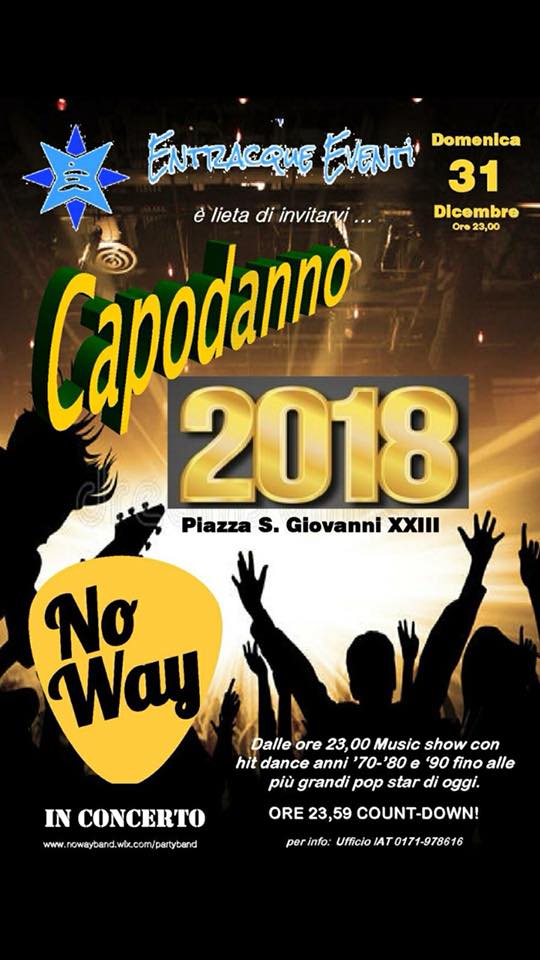 [Credit Facebook site]
HAPPY NEW YEAR FROM THE CASTLE AND THE MUSEUMS OF SALUZZO

On December 31st the extraordinary opening of Castiglia is scheduled from 10am to 1pm and from 2 to 6pm with a guided tour at 11 am and two special visits in the afternoon, for a wish for a happy new year.

At 3.30 pm and at 4.30 pm two guided tours of the castle will start, highlighting events and curiosities in the long history of Castiglia, born as a residence of the Marquises in 1270 but which has been the object of transformations and changes up to the present destination as a place of culture.

The "Dolcezze in Castiglia" visits will end at La Castiglia café-restaurant to taste the panettone accompanied by zabaglione, a typical Piedmontese delight, prepared by the chef Luca Banchio, owner of the restaurant.

The cost of the initiative - visit and tasting - is 5 euros per person, 2 euros for children under 12 accompanied by an adult.

NEW YEAR'S EVE IN PIAZZA IN CRISSOLO

Traditional appointment with New Year's Eve in Piazza in Crissolo.

At 4.30 pm at the Skating rink: end of year snack for all the children

At 6.30 pm - traditional ski torch.

From 10.30 pm in the Piazzetta del Comune the great welcome to 2019! Music and animation with Alex & Momo