There chestnut trees are many and for centuries they were the main source of livelihood for entire communities. Dried chestnuts turned into flour, in fact, become bread, dumplings, pasta, cakes, sweets.
The name Martino probably comes from Saint Martin feast, taking place on November 11th, when traditionally chestnut flour was considered ready to be used.
It is a dense, spongy, fragrant and substantial bread. It is used to eat in the morning with a veil of chestnut honey, but usually served with charcuteries and cheeses. A good idea, then, is to use the bread left over – IF there is left over – is to make croutons with it, seasoned with oil and salt to accompany mushrooms or pumpkin soups. Try it, make it yours and test!
Prep Time: 2 hours, 15 minutes
Cook Time: 40 minutes
Total Time: 2 hours, 55 minutes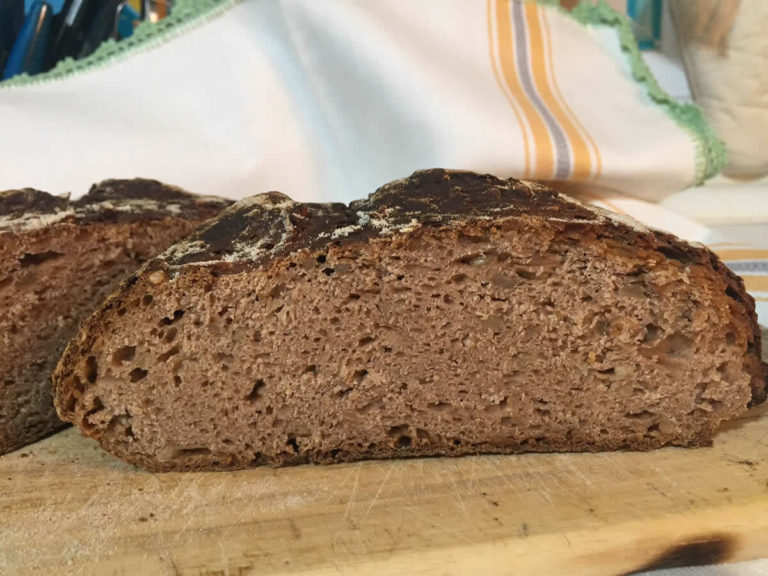 [Credit gazzettadelgusto.it]
Ingredients
For the sourdough starter

100 g flour
50 g of water
1 g of fresh yeast
For the second dough

350 g of flour
150 g of chestnut flour
150 g starter dough
400 ml of water at room temperature
8 g of fresh yeast
10 g of extra virgin olive oil
10 g of salt
150 g of shelled walnuts, roughly chopped
Instructions
The day before, prepare the dough starter

Melt the yeast in a bowl with water at room temperature. Add the flour, mix quickly until it is combined, then cover with a transparent film and let it rest at room temperature overnight (12-16 hours).
Second dough

Melt the fresh yeast in half water. In the mixer pour the two flours, the started dough, the lukewarm water with the yeast. Mix at low speed and gradually add the remaining water, holding about 50 ml, and the oil. When you begin to get a smooth, homogeneous dough add salt and then, after a minute, the chopped walnuts.
Shape the dough in a ball and put it in a bowl to rest for about half an hour.
Divide the dough into two parts, make round loaves and let them rise in a well-floured basket or on a wooden board for approx. 90 minutes or until the volume is doubled.
Heat the oven to 220°C, overturn the loaves on a lined baking tray and cook for about 20 minutes, then lower the oven to 180°C and cook for another 20 minutes until golden.