In the wake of the studies of the unforgettable Libereso Guglielmi, at CREA (Research Center Horticulture and Flower Cultivation) in Sanremo, the study and cultivation of the edible flowers, a true gem of the Ligurian production, continues.
By now on television and on all the world-wide media the food is absolute protagonist and if on the one hand the "classic" floriculture seems to be in crisis, the flower as main course can be a great revival for local production.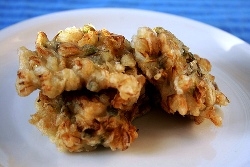 [Credit Flickr]
Ingredients
flour - 150 gr
olive oil - 3 tablespoons
iced water - 3 dl
brandy - 1 tablespoon
whipped egg whites - 2
peanut oil for frying
icing sugar
flowers (wisteria, magnolia , lilac, petals of chrysanthemums, calendula, flowers of Judas, violets, acacia, elderberry)
Prepare the batter with the flour, olive oil and water. Leave to rest for a couple of hours, then add the brandy and egg whites.
Dip the flowers as clusters, or the petals of the magnolias one by one, while the other petals can be mixed normally.
Fry them in plenty of oil, taking care not to let them burn, dry them on kitchen paper and serve sprinkling with plenty of powdered sugar.