Take half a liter of vinegar, place in a saucepan with 2 cloves, 2 whole leaves of bay leaf and a nice sprig of thyme, bring to the boil, turn off the heat, let it rest for a couple of minutes , filter and, still hot, pour into a bowl where there are 300 g of young and tender twigs of Crithmum, mix, cover and leave to rest for 48 hours. Then the Crithmum leaves are drained, seasoned with salt and extra-virgin olive oil.
Take a handful of minced sprigs of Crithmum, place in a bowl with 1 teaspoon of green pepper under brine, a sage leaf, 4 tablespoons of extra virgin olive oil and a spoonful of pine nuts. Pestle and reduce to a homogeneous paste. Accompany with it the boiled white fish.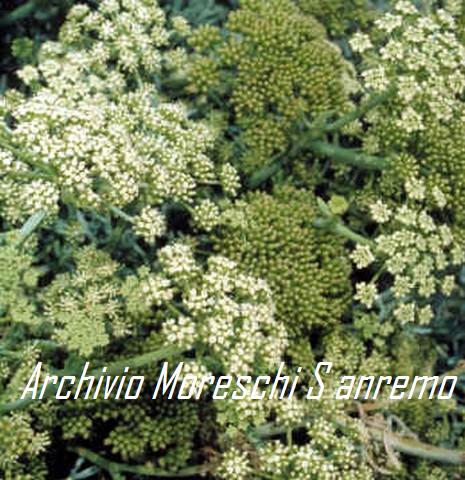 Take two handfuls of fragrant tender Crithmum, some corn salad, a few leaves of rocket, dandelion and daisy, put in a bowl, season with extra virgin olive oil, salt and lemon juice. The dishes are garnished with flowers of daisy, dandelion and violet.
Take 5 zucchini, wash, dry, rid from the extremities, cut into thin slices, place on a tea towel to make lose the water and then place in a salad bowl with a handful of leaves of Crithmum minced. It is seasoned with half a clove of garlic and a sprig of minced parsley, salt, extra virgin olive oil and lemon juice; mixed and served.
Place a handful of coarsely chopped Crithmum leaves, a teaspoon of parsley, the odor of garlic and 2 tablespoons of extra virgin olive oil in a pan. Sauté it all quickly, add 6 eggs, salt and, if you wish, the pepper, mix and cook.