The castagnaccio is a sweet of humble origin, particularly common in the Apennines of Italy, but in truth in every region where there is plenty of chestnuts, including Piedmont.
Ingredients:
250 gr of chestnut flour
250 ml of whole milk
50 gr of honey
40 gr of sugar
4 eggs
1 tsp of extra virgin olive oil (EVO)
1 pinch of salt
1 pinch of nutmeg
3 Apples, chopped
200 gr of macaroons, finely crumbled
Pine nuts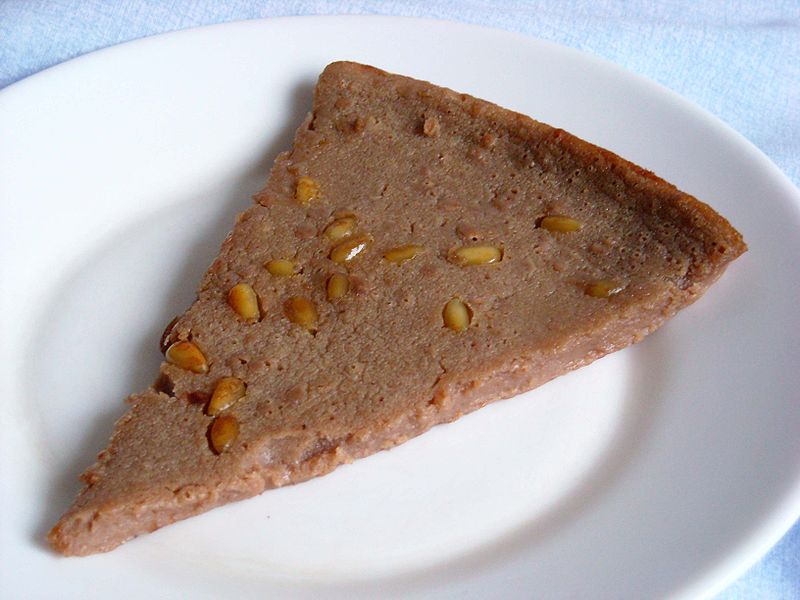 [Credit Lemone]
Method:
First toast the chestnut flour on low heat for about ten minutes in a pan, stirring continuously.
Sieve then into a bowl and allow to cool. Add the salt, nutmeg and sugar, then gradually start adding the milk and stir with a whisk, so as not to create lumps.
In addition to milk, add gradually also honey, egg and extra virgin olive oil, stirring constantly with a whisk, until a semi-liquid batter.
Preheat oven to 200 ° C.
Now add to the batter the apples, peeled and cut into chunks, the pine nuts and the crumbled amaretti (recommend doing quite fine, because the coarsely chopped amaretti can be annoying in your teeth).
Pour the mixture into a pan of 24 cm diameter well greased and bake in preheated oven for 30-35 minutes.
Pay attention that this type of chestnut cake stays moist, should not dry.