Ingredients: for eight persons
140 g of organic cane sugar
+2 or 3 tablespoons for the cover
150 g of fine ground-up cornflour for cakes
100 g of flour 0
2 fresh whole eggs, cat. 0
1 cup of Ligurian extra virgin olive oil
the rind of an untreated lemon
1 sachet of baking powder
1/2 cup of warm milk
Ingredients for the cream
2 fresh eggs cat.0 (just the egg yolks)
½ liter of whole milk
2 tablespoons of flour 0
5 spoonfuls of brown sugar
the rind of an untreated lemon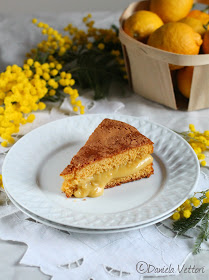 [Credit Le Cinque Erbe]
Beat the eggs with 140 g of sugar in a large bowl, add the oil, the grated rind of the lemon, the flour, sifted yeast and milk.
Put the mixture well blended in a buttered and floured or lined with baking paper cake tin and sprinkle with 2 or 3 tablespoons of sugar.
Bake at 180 degrees for about 35 min. Let it cool.
Whisk the sugar and the egg yolks until they are light and fluffy; add the grated lemon rind, then alternating them, add flour and warm milk, stirring constantly, to avoid lumps.
Cook the mixture over a moderate flame, stirring with a wooden spoon, making sure that the cream does not begin to boil (eventually move away from the flame a moment), as soon as the foam disappears and the cream begins to veil the spoon, lower the heat to a minimum and finish cooking when the desired density has been reached (bear in mind that cooling will further solidify).
Cut the cake horizontally in half, fill it with the cream and serve in slices.