Val Varaita's Ravioles are a traditional dish from Varaita valley, in the province of Cuneo - the same recipe may have many different names in other valleys of the area.
Although the name ravioles bring to mind the better-known ravioli, their name comes from their peculiar baton shape - "raviolare", in fact, namely means rolling out a small piece of pasta on a wooden board using the palm of the hand.
Valle Varaita is a valley in the province of Cuneo in which Occitan traditions are still alive and the cuisine has maintained a very distinct local identity.
Val Varaita Ravioles are like potato gnocchi with the addition of local cheese, eggs and flour, and shaped into little batons.
They can also be found in other Occitan valleys in the province of Cuneo, such as Maira Valley and Po Valley.
Traditionally, they are served with melted butter and, at times, with cream, fresh ground pepper sprinkled to serve.
They make a truly nutritious dish, usually prepared with local ingredients, in particular with locally-produced cheese and potatoes.
The cheese traditionally chosen for this recipe is "tomino di Melle", produced in the village of Melle.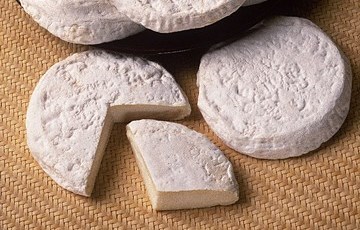 Ingredients:
1kg potatoes
300g flour
200g Melle tomino cheese
one egg
two pinches of salt
grated nutmeg to taste
Directions:
Boil the potatoes in mildly salted water, drain and peel. Put through a potato ricer, alternating with chunks of cheese. When the mixture has cooled, add the flour, egg, salt and nutmeg.
Mix well and add enough flour to make a firm dough.
Use this dough to make the ravioles: as you would for normal gnocchi, split the dough into 200g chunks to be rolled out with your fingers into long snakes about 1cm in diameter.
Pull off little batons from the long snake of dough and roll them with the palm of your hand on a well-floured, wooden board. Cook in small batches, you'll know they're done when they rise to the surface. The smaller they are, the better they cook.
Drain the ravioles and put them into a serving dish. Pour over the melted butter and traditionally, a little cream scooped off the top of the milk would be added. Sprinkle with pepper as you wish.