For the panna cotta (sweetened cream) chantilly:
60 ml of whole milk,
250 ml of cream,
50 g of sugar,
4 g isinglass,
3 Egyptian onion bulbs;
50 g of superfine sugar,
15 g of water,
30 g of orange juice;
3 Egyptian onion bulbs,
3 teaspoons of superfine sugar.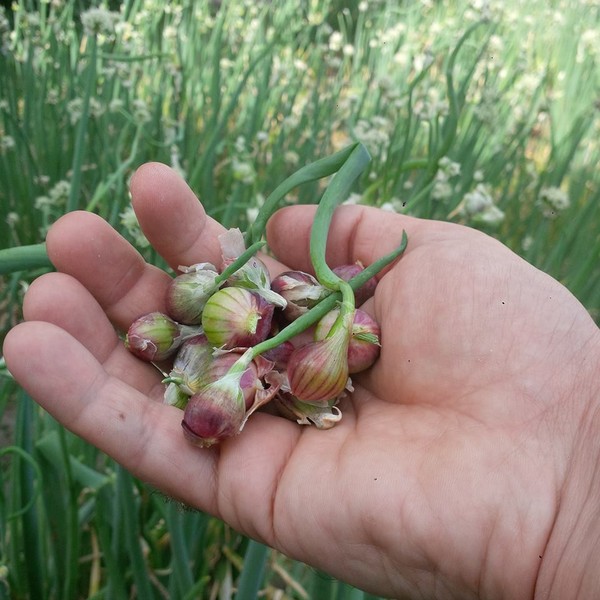 Heat the milk, almost to a boil. Take away the outer skin of 3 onion bulbs, slice ​​and combine with milk.
Turn off the heat immediately, cover and leave to infuse for about 2 hours.
Put 4 g of gelatin sheets soaked in cold water for about 10 minutes.
Take again the milk, strain it and deprive it of the onions and bring it back to the heat until it warms up, without reaching a boil.
Add the well-squeezed isinglass and stir vigorously to melt it, add half of the well-cold cream and let it rest.
Whip the remaining cream with 50 g of sugar and add it to the other mixture only after it has cooled well.
Let it rest and dedicate yourself to the orange caramel:
Cook 50 g of sugar with 15 g of water, until you get a blond caramel.
Then add 30 g. of orange juice and continue until you get a caramel of the right consistency.
Pour into glasses and leave to cool. Only when the caramel is very cold add the chantilly panna cotta flavored with onions and let it rest in the fridge for about 2 hours.
Deprive 3 bulbs of the outer skin, slice, add 1 tablespoon of sugar and 1 of water and let them caramelize in a saucepan over low heat, stirring occasionally.
Take the dessert cups out of the fridge just before serving, decorate with caramelized onions and bring to the table.