The Martine pears, or Martin sec or Madenassa (larger) are fruits suitable for cooking: not very juicy, with a grainy and crunchy pulp, they are rarely found at greengroceries. It is a late pear, resistant to diseases, which is well preserved during the winter. Of peasant tradition, cooked in wine, on the stove and covered with "waste paper" under the lid to keep the humidity or in the runfò, a Ligurian term derived from Rumford relative to the homonymous oven, offered a very simple dessert, cooked with few ingredients, but tasty and fragrant, of those that "warm the hearts".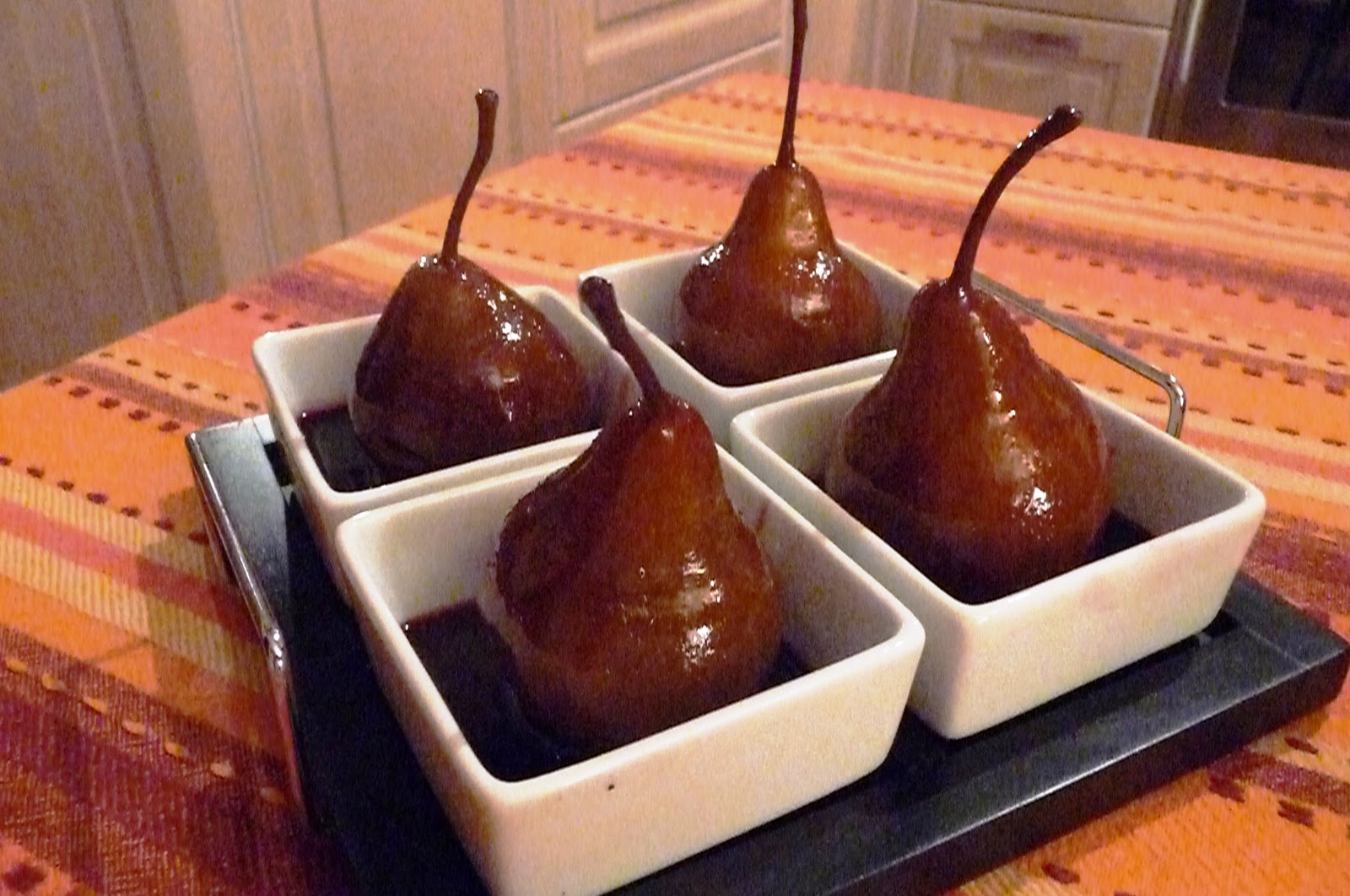 [Credit La cuoca Marzolina]
Difficult to give a precise recipe, depends on the width of the pot: it is necessary to make a single layer and cover with red wine. In this case a Nebbiolo, a Dolcetto or equivalent wine can be used as well!
Pere Martine
Red wine, enough to cover pears.
Granulated sugar, gr. 150-200
Raisins, gr. 50
Grappa, 1 cup
Cinnamon 3 pieces of about 2 cm
Cloves, 3 or 4
Nutmeg, a sprinkling
[Credit Cucina di Viola]
Wash the pears preserving the stalk and dry them well.
Place them vertically in a saucepan with cover, which goes into the oven, and sprinkle with all the dry ingredients.
Pour the red wine up to the base of the petiole and bake them covered at 200 °, until the wine is consumed and begins to caramelize (cooked in a wood oven, it takes about 50 ').
Remove from the oven, bathe the pears with grappa (the amount is optional) and set on fire (carefully, I recommend!).
Note. On their own but, if desired, they can be accompanied with an orange-flavored custard or caramelised with cinnamon.