Savory Tartrà is a traditional dish from Langhe, a hilly area to the south and east of the river Tanaro in the province of Cuneo in Piedmont. It is famous for its wines, cheeses, and truffles—particularly the white truffles of Alba. Langhe were inscribed on UNESCO World Heritage list in 2014 for its cultural landscapes, outstanding living testimony to winegrowing and winemaking traditions.
Savory Tartrà is a delicate dish suitable as a refined and delicious appetizer. To enhance, it is perfect combined with seasonal vegetables (asparagus, mushrooms, artichokes, cardoons, ...).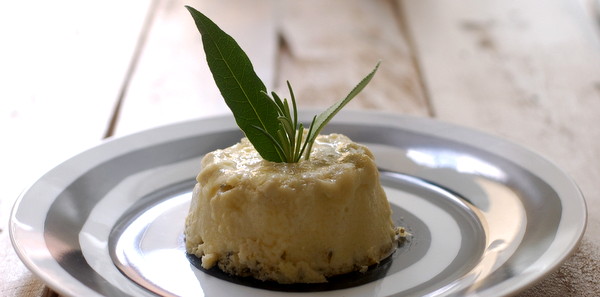 [Credits: alterkitchen.it]
Ingredients:
Eggs 4
Yolks 2
Whole milk - 1/2 liter
Cream 1/4
Onion 1
Grated Parmesan cheese - 3 tablespoons
Chopped bay, sage and rosemary - 1 tbsp
butter
salt
Freshly ground black pepper
nutmeg
Directions:
Finely chop the onion and sautée in extra-virgin olive oil.
In a separate bowl, beat the eggs, add the warmed milk, the cream and then the grated Parmesan cheese, the chopped herbs, salt, pepper and nutmeg.
When everything is well mixed, add the previously sautéed onion and mix again.
Pour into buttered and floured molds.
Put into a preheated oven (150 ° C ), in bain marie, for about 40 minutes.
Best paired with Grignolino d'Asti, a red Italian wine grape variety that makes light colored wines and rosés with very fruity aromas with alpine notes.
Enjoy!