Situated on the northwest coast of Italy, the beautiful city of San Remo is widely known for its historic architecture, ancient olive groves and Japanese gardens, making it one of the most beautiful cities in the Italian Riveria.
If you are thinking of booking a visit to the stunning resort town, here's a guide for exploring the best of San Remo.
Take a Stroll Through La Pigna
La Pigna is the oldest part of San Remo and offers mini winding alleyways that make their way up to beautiful gardens at the top of the hill, such as Villa Ormond, Villa Zirio and Villa Nobeland Palazzo Bellevue. It's also home to historic churches, buildings and squares, which have been lovingly restored. Each also offers helpful signs that allow you to learn more about the properties' history.
View Exhibitions at Museo Civico
Located in a 15th-century palazzo, Museu Civico offers many rooms that feature gorgeous frescoed ceilings, Roman archaeological and local prehistoric discoveries as well as original paintings and temporary exhibitions. Of course, the crown jewel of the museum is Gloria di San Napoleone by Maurizio Carrega and bronze statues by Franco Bargiggia.
Don't Miss La Chiesa Russa Ortodossa
La Chiesa Russa Ortodossa was built for the city's Russian community that followed Tsarina Maria and moved to San Remo in 1906. The beautiful Russian Orthodox Church features onion domes with a stunning pale-blue interior, designed by Alexey Shchusev. The Soviet architect later designed Lenin's mausoleum in Moscow, Russia. Nowadays, La Chiesa Russa Ortodossa serves as an exhibition space for various Russian icons.
Grab the Perfect Pizza Slice
Pizza is, of course, an integral part of Italian cuisine, and there's no better place to try a delicious slice in San Remo than at Permare Café. There, they are so proud of their slices that they provided world-class poker players the opportunity to participate in a pizza-making master class. However, there's more than just pizza on the menu, as you can tantalize your taste buds with fresh fish or seafood, complemented by a delicious slice of tiramisu.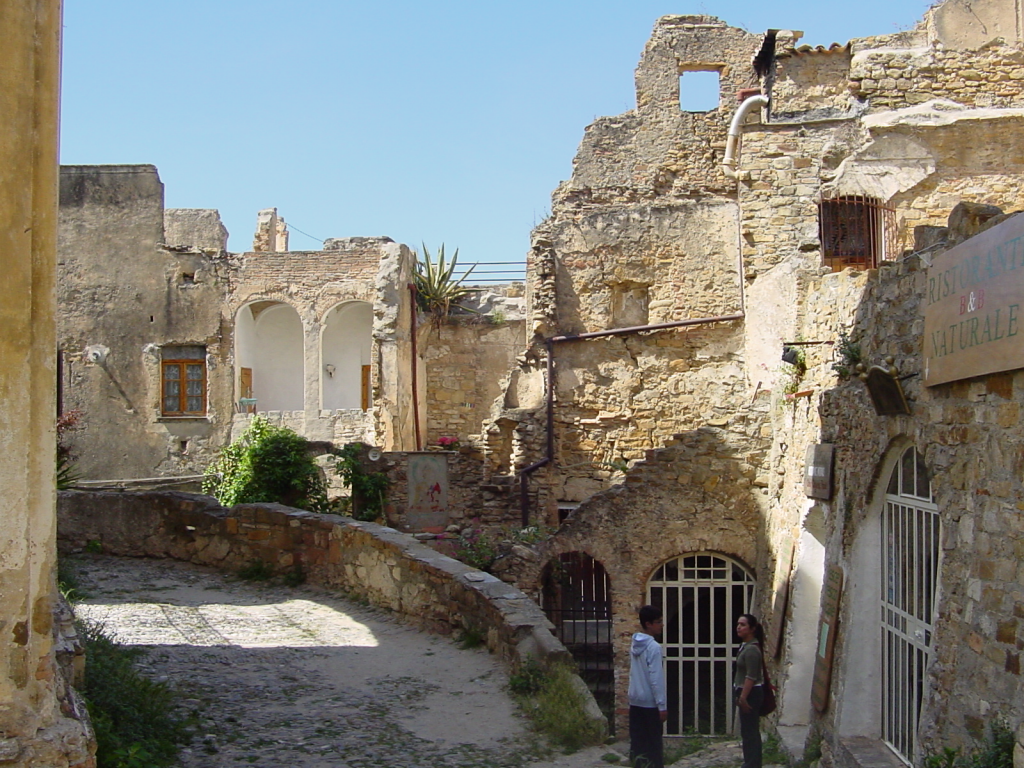 Photo by Samuele / CC0 1.0 Caption: Bussana Vecchia.
Visit Bussana Vecchia
Look for Bussana Vecchia 10 kilometers northeast of San Remo. The village was sadly destroyed by an earthquake on Ash Wednesday 1887 and became a ghost town until the 1960s. However, thanks to artists who moved in to rebuild the ruins using the original stones found in the rubble, new life has been breathed into the former village. It is now home to an international community of artists.
Time Your Trip for the San Remo Music Festival
The best time to visit the coastal city is in March because that is when it proudly hosts the San Remo Music Festival, a celebration of Italian popular music. This historic festival has been held in the city since 1951 and is still as popular today, which is why it continues to attract the best Italian and International acts every year.
Step Inside San Siro Cathedral
Built during the 12th century, San Siro Cathedral is a sacred building in the city. Its Romanesque-Gothic style is reminiscent of St. Michael's Cathedral in Albenga despite a Baroque-style modification before being restored to its former glory between the 19th and 20th century. Once you step inside the breathtaking cathedral, you will find an 18th-century crucifix by the Italian sculptor Anton Maria Maragliano, located over the high altar. It is a must-visit when in the city.
Spend an Evening at Cafe' du Centre
After a busy day of sightseeing, you should spend an evening at Cafe' du Centre, a sleek and sophisticated bar that is home to exceptional wine, delicious aperitivo snacks and friendly, helpful staff. It will also provide the perfect opportunity to mix with the locals and soak up the city's fantastic culture and characters.
San Remo is a city steeped in history, but it's also consistently changing as the popular Portosole area is also set for redevelopment soon. Whether you love delicious food, historic architecture or unforgettable festivals, you can trust San Remo will not disappoint.