In five centuries Ligurian ceramics maintains and strengthens its image refined and appraised thanks to its geographical location and links with neighboring regions (with France by sea and by land with Piedmont).
Between the '500 and' 600 Ligurian ceramic lives a moment of glory thanks to the spread of the art of tiles, with cobalt blue ornamentation initially and then with various polychrome themes, both Eastern (lacustrine plants, insects, birds, pagodas , poultry) and Western (turreted castles, religious or mythological subjects). The most famous decorations that spread more then and are still produced today, are for example:
The Ancient Savona decoration or White Blue:
Was introduced by the family Guidobono to whose founder Giovanni Antonio (1631-1685) goes back the definition of chiaroscuro (clear/dark) blue monochrome. It consists basically of the representation of the human figure placed in a landscape almost always consisting of a foreground with heads and plants with small rocks and a second plan with lawns, trees, some house or castle and a background with mountains and clouds. The "scene" is the representation of some biblical or mythological episode, literary depicted in prints, illustrations in books or consists of the depiction of a landscape or cherub.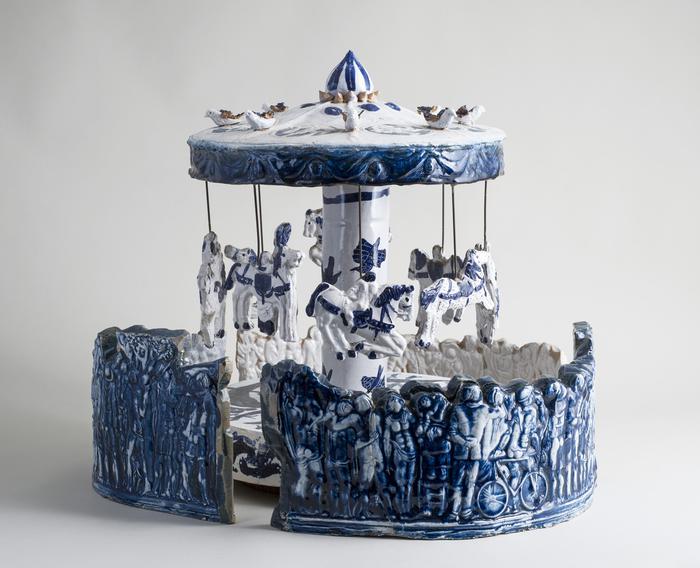 [Ancient Savona]
The Calligraphic Naturalistic.
Introduced in the first half of the seventeenth century in the factories of Albisola and Savona, the décor incorporates the grounds of Chinese porcelains in use during the kingdom Wan-li Ming Dynasty (1571-1619). Presumably potters found available original Chinese models or their Persian imitation products. Its name is due to the technique of painting, that is the sign that outlines almost calligraphic designs and subjects, predominantly naturalistic. In particular we note that the Oriental subjects - hares, deer, dogs, birds among herbs and lance-shaped leaves, flowers and palms - were also overlapping Western themes like castles, bell towers, churches, human figures with outlines of cypresses. The realization is on majolica white or bluish monochrome blue early on and then in polychrome with the colors green, orange, blue and yellow in the course of production.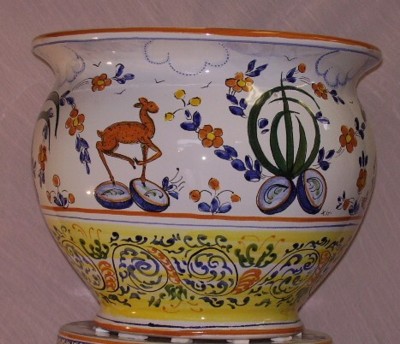 [Cachepot calligraphic style]
The Levantine
This trimming, performed in more colors or only in manganese, consists of the design outlined with tiny characters and animals but also of landscape elements such as houses, trees, etc.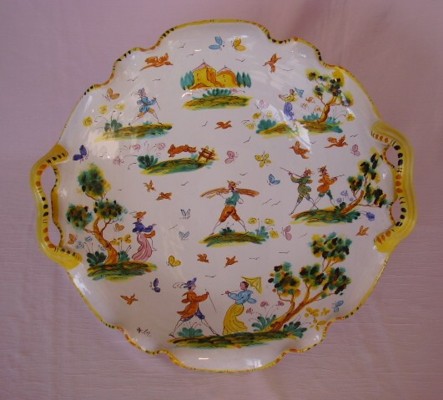 [Centrepiece levantine style]
The Boselli:
The decoration of objects pivots on a bunch of flowers dominated by a tulip or a rose with the contour of some other small flowers - miosotis, botton gold, daisies completed by appropriate leaves. The remaining area is dotted with some small group of little flowers or only a few leaves. The realization on white majolica with polychrome colors pink, yellow, orange, purple, blue and green, but also in monochrome green.
[Valente style]
There are other minor decorations such as The Valente, Birds and Parsley and the black and yellow ceramic.